Designing Your Baby Nursery – Everything You Need to Know
You're having a baby. Congratulations! We know your head is spinning with a thousand questions. The first may be "How to Design a Perfect Nursery?".
This informative and comprehensive guide covers everything you need to know when setting up your nursery – from A to Z! Includes recommendations, timeline, design suggestions, and links to top rated products.
Chapter 1:  Where do I Start?
Believe it or not, there is a logical sequence to designing the nursery. If you break your decisions down into 4 different steps and tackle them one by one, you'll find it's much less stressful! Here are the four simple steps (in order) and the recommended timeline for each decision.
Step 1: Select Your Crib Furniture
Select your crib furniture first. The crib and nursery furniture guide both the wall colors for your nursery and your selection of crib bedding. You want to pick out your crib and matching furniture, including the glider, changing table, and any other furniture pieces first. There are many furniture companies that you can buy online that include free shipping.
HINT: Ask for a sample paint chip of the wood color so you can coordinate bedding and paint colors.
WHEN:  7 months from due date. Many companies order with a 6 to 12-week window for delivery, and many companies experience delays in delivery, especially if the furniture is made outside the USA. Covid has impacted deliveries significantly.
Step 2: Select Your Crib Bedding
Once your crib and furniture are selected, the next step is to start thinking about the vision you have for your nursery. Do you have a particular theme you like?  Examples may include Nautical, Floral, Boho, Farmhouse (Joanna Gaines and her Magnolia Home have made this theme wildly popular), and Solids. 
Look to Pinterest for creative ideas in nursery design, fabrics, themes, and accessories. There are many fabric companies online where you can shop for ideas. Fabric.com is probably one of the biggest. Use this to spark ideas or to find a specific pattern you want.
This is the time to express your creativity for your new baby. Have fun with it! Select a favorite theme or look you want to achieve. Then start looking online (shopping online saves so much time) or go to your local baby bedding boutique. When looking at crib bedding (be sure to read our recommendations in Chapter 4, Crib Bedding, and ask about quality and guarantees. What happens if the sheet shrinks or the crib rail cover doesn't fit your particular crib style? Will they allow returns? Will they offer replacements? 
Consider adding curtains. Does the bedding company offer matching curtains with their bedding? Can they make your curtains to fit your particular window size?
Give consideration to personalizing something in the nursery. Having your baby's name or initials monogrammed on a sweet baby pillow adds a special touch to the nursery design.
HINT:  Order fabric samples to take home (or have shipped to you at home) so you can use to match the wall colors. In addition, if possible, it is always good to feel the fabric and see the colors in person, because colors on a mobile phone can be deceiving.
Check out our Blush Watercolor Bedding Set for a beautiful, bright, addition to your nursery!
WHEN: 6 months from due date. Anything custom you want to be made can take up to 6 weeks. You'll want your nursery ready to go at least two months before your due date. Just in case.
Step 3:  Select Your Wall Colors
In Step 3, it's time to select the wall paint or wall covering. Coordinate with the color(s) of the fabrics you've chosen and your crib and furniture.
HINT:  It's way easier to match up a paint color to a fabric swatch rather than the other way around. 
OUR FAVORITE:  Benjamin Moore Paints. This is one of the top rated paints for indoor: Benjamin Moore Regal Select. It's paint that "goes on easy and combines coverage, durability, and cleanability."
Bottom line:  Don't paint your nursery before you find your bedding and curtain fabrics! Your nursery design can include accenting a wall in a different color or in bold stripes, painting the inside/back of bookshelves a different color, or painting an angled wall a different color. Peel and Stick wallpaper is popular, reasonably priced, and easy to remove when it is time to change up the room down the road.
You can paint your own nursery, even if it's the first time you've ever put a brush in your hand. We love this tutorial by Beth at Unskinny Boppy called My Lazy Girl's Guide to Painting Striped Walls.
An alternative to paint is the newish "peel and stick" wallpaper options. Our favorite is Wallpaperie, not only because her designs are fantastic, but she will custom design wallpaper to match your nursery!
FUN FACTS:  Colors and Your Nursery. What Impact Can They Have?
Different colors have varying effects on our emotions, energy levels, and ability to relax (among other things) and can also affect our mind and physical well-being. These aspects are important when selecting color palettes for your baby's room decor, particularly in the nursery where they will spend most of their time sleeping. We've researched colors and their impact on baby (see below) which may help you decide which nursery color to select. Once you do, check out Benjamin Moore's Color Your Nursery tool, which lets you play with paint colors online!
Warm Colors
Colors such as orange, red and yellow are energizing and stimulating and perfect for use in larger rooms. Because of this, they're not often used in smaller 'sleeping' rooms such as a nursery. Some children are more affected by colors than others, just like some children have a higher level of energy than others. It doesn't take much for high energy children to become over-stimulated!
Cool Colors
Cooler colors include blue, green, purple and white. Darker shades of cooler colors are often used as secondary colors, for example, painting only one wall in a dark color can be very effective.
Gray – which is a very popular color now in nursery decor –  inspires calm and relaxation. Gray is a fabulous color because you can accessorize with virtually any other color.
HINT:  Dark paint makes a room look and feel smaller. But, you can use a dark color on an accent wall or back of a bookshelf.
WHEN:  5 months out. You don't want to be painting the nursery at the 11th hour. Nor do you want to stand on a ladder at that point!
Step 4: Accessorize Your Nursery
Once you have your crib in place, walls painted or wallpapered, and your crib bedding has arrived and is dressed in the crib, the really fun part begins. When you have everything in place it is so much easier to bring something home to try out (think wall objects that fit your nursery theme). 
We find Hobby Lobby is a great resource for wall accessories and nursery décor. They have themed areas that include nautical, woodland, floral, and more.
Check Etsy for downloads of printable art. Some are free. Consider buying a large wood initial or initials (or spell out the name) and painting it yourself. It's such a warm, personal feeling to see your baby's name on the wall.
The last month or so of your pregnancy is a time to rest. Accessorizing is fun, low stress, and really brings the overall nursery design to a close.
HINT:  If you think you can't DIY, think again. There's a wide array of tutorials online, complete with step by step videos.
WHEN: Any time after walls, colors, and fabrics are completed, but especially fun in the last 4 to 6 weeks as the excitement grows!
Chapter 2:  "Must Haves" For the Nursery – Here's the Top 10!
1.     Crib (and crib bedding)
Even if you're planning to have baby sleep in a bassinet during the first few months, you'll want to select and purchase a crib. It's a great, safe place to lay baby down, and he or she will get comfortable with the space when it's time to make the nighttime move. The crib should be your investment piece in the room. You may be tempted to skip the expense, but many babies sleep in their cribs for three or more years. And, if it is a convertible crib, they'll have it 'til they leave home.
Getting the coordinating crib bedding is a fun way to express yourself, your passions, and your creative side. The nursery is the one room in the house that can have its own style and does not have to coordinate with any other room in the house! The crib and crib bedding together will be the showpiece of your nursery.
Here is our elegant and gender neutral Archery (Taupe/Aqua) Crib Bedding Set!
2. Glider or Rocker Chair
Late night feedings will be so much more comfortable for both you and the baby when you have a designated place to snuggle together. Your husband will love it, as he will be doing some nighttime duty, too! Gliders today are luxe and have come a long way from what your mother used (a rocker) but a rocker will do the job, too. What to look for? There are four basic "C's" to evaluate when shopping for your glider:
Cost
Comfort
Construction
Clean (waterproof?)
It goes without saying that the glider you choose should be highly rated for safety.
Our favorite rocker is the Bakersfield by Land of Nod, a bit pricey at $599, but has a sleek design and incredibly comfortable feel. The fabric is washable, an important consideration for the place you will nurse, rock, and burp your baby. 
HINT:  When shopping for your glider, make sure it is easy to get up and out of during the night. Nothing's worse than waking your peacefully sleeping baby because you can't get out of the chair.
3. Black Out Curtains
We recommend blackout curtains because they fake nighttime when it's time for that morning or afternoon nap. A valance may be adorable, but it will do nothing to block out sunlight. Same for simple lined curtains. And, most babies are smart enough to know that sunlight means playtime, and darkness means bedtime! You'll be the one who benefits the most from this.
HINT:  You can have curtains custom made to fit your window or room. Nurseries often present a challenge, including windows that butt up against a wall (impacts hanging the curtains) or small windows with an old radiator (or air conditioning unit) below. At Liz and Roo, you can find custom window treatments made to your specifications as low as $300 a pair.
4. Sound machine or white-noise app/device.
Help baby sleep more soundly, and help the rest of the family live their lives without constant worry about making noise that will wake up the baby.
HINTS:  Babylist published The Best Sounds Machines for 2022, a great resource to start with! You can also download a free app on your phone. We love the app CALM, which has a free version (or an upgraded one you pay for).
5. Baby monitor
All baby monitors consist of a transmitter that stays in the room with the baby and one or more receivers. There are three different types of baby monitors:  Audio, Audio/Video, and Wireless.
There are lots of options available – from super simple to high-tech cameras with sensors and alarms. Gauge your comfort-level to decide the best fit for your family and you'll breathe easier knowing you can keep an ear and/or eye on baby at all times. The new monitors with video can provide real peace of mind.
HINT:  For a comprehensive comparison of the top brands, see this resource by Babylist.
6. Odor-free diaper pail
You will never regret this purchase, especially after you've dealt with your first few blow-outs. The Diaper Genie takes the prize in this category.
Like a regular trash can, the Diaper Genie filters dirty diapers into a plastic sleeve, keeping the unit clean (and dry) and allowing you to easily empty the pail. The key difference between a Diaper Genie and your run-of-the-mill kitchen can is a mechanism that keeps that the main storage compartment closed at all times, even when the lid is open.
7. Changing Station
Having a designated spot for changing baby makes it much easier to keep your nursery and changing materials organized. Plus, a contoured changing pad (the most popular style) gives baby a soft, safe place for diaper changes. Contoured changing pad covers can tie into the overall nursery theme and add a stylish touch to the room. Make sure that it is high-quality, durable, and washable. This is an item that will get washed often!
You don't have to invest in a changing station. You can use a dresser for the changing station. Just make sure everything you need is within reach of the changing table, including diapers, wipes, laundry hamper, burp cloths, and more. You never want to step away from the changing table while changing your baby!
Use the top dresser drawer to store any and all diapering related items like diapers, wipes, change of clothes, ointments, lotions, etc. Alternatively, there are usually matching changing stations that coordinate with each crib collection.
HINT:  Check out Liz and Roo's selection of contoured changing pad covers.
8. Playmat or rug.
Give your baby a place to spread out and play. Tummy time and crawling practice will become a part of daily life as baby grows, and you'll be happy to have a soft surface for your baby to learn all the moves, including crawling.
HINT:  We recommend these stunning, machine washable, easy care and beautiful Lorena Canals rugs. They make a great finishing touch to nursery decor. Plus, Lorena Canals has a great social mission. With the purchase of a rug, a customer helps a child attend school. Believing that education is the key to mobility and vital in breaking the poverty cycle, those who purchase Lorena Canals' rugs not only help children to get an education but also the opportunity to live a better life.
Their Sakula project built a nursery in India for children who were on the streets without protection and security. They provide a place to go, meals, and education. What is not to love about that!
9. Swing or bouncer.
This item is likely to become your best friend and sanity saver! You'll soon realize you don't know how you'd function without it, especially if you ever need to do anything that requires 2 hands, such as making dinner or curling your hair!
Using baby swings or bouncers SAFELY is important. Read this comprehensive guide on "How To Use a New Baby Swing or Bouncer".
We turned to thewirecutter.com for their in-depth reviews of bouncers. Their findings? "After eight hours of research—including speaking with a sleep consultant, baby-gear experts, and plenty of parents—and 20 hours spent testing 10 baby bouncers, we believe that the sturdy and versatile BabyBjörn Bouncer Balance Soft is the best for most families".
10. Books, softs toys, stuffed animals.
You want your baby to love their nursery (it makes night time so much easier!), so make sure it's a fun and inviting place for them. Get lots of books. Reading to baby should be a nightly event. Remember never to put anything in the crib, no matter how cute, with your newborn. Stuffed animals belong outside the crib
HINT:  Don't forget to add these items to your registry. Check out Jellycats, just about the softest stuffed animal you'll find! 
You can find Jellycats online at Liz and Roo under Baby Gifts.
Chapter 3: How to Choose the Right Crib for Your Budget
What style of crib should you buy? How much money should you spend? Here's our pick of the top cribs at varying price points, from expensive cribs to moderately priced to inexpensive cribs.  All provide a safe and stylish place for your precious little one to sleep.
When to Transition to the Crib
Many parents will have their baby sleep in a bassinet or cradle for the first few months, but the safest place for your baby to sleep is in his/her crib! Cribs are regulated by federal law (so that they are as safe as possible) and should be certified by the Juvenile Products Manufacturers Association.
Top of the Line Picks
We obviously love anything made in the USA, so our top pick is Newport Cottages! Made in California, these modern, sleek cribs come in a variety of colors and are extremely well made.
Newport Cottages Devon Convertible Crib
With 8 finishing color choices, this luxury crib is made in California (we love made in USA)  and built to last. The crib is made from solid hard woods and guaranteed for sturdy construction and easy assembly. This is one of the few luxury cribs available in a wide variety of colors:  Bahama Blue, Black, Coral, Kelly Green, Marigold, Navy, White, and French Grey.
It's environmentally-friendly, with all finishings made of non-toxic, low VOC materials; all materials are California Air Resource Board (CARB) certified to provide the healthiest nursery environment for your baby. Safety – continuous tests (by independent laboratories) guarantee that each Newport Cottages Devon Crib is in compliance with US standards and meets (or exceeds) CPSC and ASTM standards.
This crib is available online.
Moderately Priced Picks
Westwood Design Hanley 4-in-1 Convertible Crib in Cloud
Add luxury to your nursery with the transitional style of Westwood Design's Hanley 4-in-1 Convertible Crib. This stylish focal point features clean lines with an elegant headboard and Westwood's "Always There Hardware System" (a neat feature) that ensures all hardware is built into the crib for easier assembly.  This crib has three adjustable mattress height positions and converts from a crib to a toddler bed, daybed and full-size bed. Another unique feature: Westwood dressers feature "no tools assembly" which enable quick assembly without any hardware or tools.
Westwood Designs – Urban Rustic Convertible Crib
The Westwood Urban Rustic collection features beautiful rustic looking furniture pieces designed to complete your baby's nursery. Made with elegant lines and craftsmanship, the Urban Rustic collection features several pieces including a convertible crib, night stand, chifferobe, hutch/bookcase, changing tray, six drawer dresser, and a five drawer dresser in on finish, Brushed Wheat. Best of all, this crib can be converted to a toddler bed and a full-size bed with use of the conversion rails.
Every Westwood Design piece is built to last from a child's birth, through adolescence, and even beyond. Each piece is build using solid wood and quality veneers secured with steel inserts, English dovetail joints, corner blocks, and more. These elements help to ensure that Westwood furniture is tough and ready for years of continued use.
You can buy this crib online at Bambi Baby.
Babyletto's Hudson 3-in-1 Convertible Crib 
This mid-century modern style crib features stylish rounded spindles and an open modern silhouette. Like the other cribs, the Hudson Crib is made with eco-friendly, non-toxic materials backed with Greenguard Gold certification. Also, this crib has four adjustable mattress positions! An included toddler bed conversion kit allows you to seamlessly convert from crib to toddler bed to daybed, while the additional Junior bed conversion kit means that your Hudson can grow along with your baby. Priced at $379, we think this is a great buy.
Available on Amazon. 
Best Cribs for Less
Da Vinci 3-in-1 Jenny Lind Crib 
For $199.99, this is a sweet deal. The very popular Jenny Lind Crib is affordable, attractive, and has a lot of options and benefits. First, it's a convertible crib in a classic, vintage-inspired style including retro looking solid wood spindle posts.
Second, it comes in eight different colors.
Third, it is so easy to put together. In addition, it has wheels for ease of moving, but you can also remove the wheels (they don't lock). To top it off, it is Greenguard Gold Certified and made from sustainable New Zealand wood with non-toxic paint.
Available at Da Vinci's website. 
Chapter 4:  Crib Bedding: What You Need to Know
Selecting your crib bedding can be a quick process (you see something stunning and know immediately that's what you want) or a long, drawn out process. But, if you look beyond the colors and patterns you have in mind, the question comes down to "what exactly do I need?" Let's start with the one thing every crib must have:  crib sheets!
How to Choose the Best Crib Sheets for Your Baby
With so many decisions to make, crib bedding shouldn't be rocket science. However, selecting the best crib sheets makes a difference. Crib sheets are more than just something to cover your crib mattress. With a wide range of brands to choose from, the best crib sheets are a simple and effective way to decorate the nursery. Just keep in mind one thing:  a crib sheet also needs to be safe for your baby.
We know that the Pediatric Society of America recommends "Bare is Best", meaning no bumpers, no blankets, and no stuffed animals in the crib. This will reduce the risk of SIDS related deaths.
Considering the amount of time you'll spend in the nursery, you'll want to pick a crib sheet fabric and design that you really love. Be sure to invest in plenty of crib sheets. You'll run through them quickly in a matter of days. Having spare sheets on hand means doing laundry less often.
HINT:  We recommend purchasing at least 3-4 crib sheets.
Safety Considerations when Buying the Best Crib Sheets
Whether you're planning an elaborate nursery décor or simply using a crib sheet as your only décor, when shopping for sheets, make sure you get the best crib sheets. Babies sleep 16 hours a day on average, so investing in a quality crib sheet makes a difference.
Yes, you can buy a fitted crib sheet for about $15. But like anything else, with a crib sheet, you get what you pay for. Two things to look at in the best crib sheets:  the elastic band, which should wrap all the way around the crib sheet, and the depth of the pockets. It goes without saying the quality of stitching should be a factor because you don't want sheets that come apart at the seams after washing.
Most crib sheets have fitted corners to keep them secure. The sheet should fit your baby's crib mattress like skin.
The top complaint new parents have is sheets that shrink when washed. That's why a sheet with extra deep pockets, allowing for a small amount of shrinkage, is important for the best crib sheets. You don't want to fight with your sheets every time you change the mattress! See (below) this photo of an inexpensive crib sheet. The elastic is not firm, the sheet sags, and after many washings, that elastic loses its strength, which is the reason sheets start to "creep" up the sides of a mattress (another safety hazard). The lesson is this: Buy Quality Sheets!
Your bedding choices will seem endless, with the vast array of fabrics, colors, and print choices available. And, while bedding sets with bumpers might look pretty online, bumpers are not recommended by the Pediatric Society. Their recommendation is "bare is best", which means the best crib sheets in the crib are fitted sheets… and nothing else!
Liz and Roo offers all the latest designs and fabrics you're looking for in the best crib sheets for your baby.  All our crib sheets are made with love right here in the U.S. We don't skimp on quality and we believe the best crib sheets are both safe and beautiful!
What is a Crib Rail Cover?
A crib rail cover is a piece of material that covers or protects the crib railing. We are asked this question ALL the time. People often confuse crib rail covers with bumpers. A crib rail cover is NOT a bumper. The crib rail cover is raised 18″ above the mattress, allowing air flow (the #1 concern with bumpers) and also has functionality.
Why do I need a Crib Rail Cover?
Every baby goes through teething. During this phase, which can last for months, your baby will chew on anything that brings relief to his or her gums. This includes the railing on the crib. Adding a coordinating crib rail cover will ensure the longevity of the crib rail and protect it from teething marks.
What are the benefits of a Crib Rail Cover?
There are three benefits of using a crib rail cover:
When your baby chews on the crib rail, he or she risks ingesting wood splinters, wood stain, varnish or paint. That's not safe! 

Read our article Crib Rail Covers & Crib Safety

.
When your baby chews on the crib rail, it ruins the furniture. With many to most cribs being "convertible" (to a full-sized bed) these days, that means your footboard will be covered with chew marks. That's not good!

A crib rail cover is a perfect alternative to a bumper

 

adding beauty to the crib bedding. Plus, you can monogram a crib rail cover to personalize the nursery!
What types of Crib Rail Covers should I shop for?
The most popular crib rail covers are made of fabric and then filled with a polyester fill or padding. This fill is the padding that you want when your baby is teething on the rail cover. Tip: Be sure and wash it before teething begins. And then, wash frequently as baby's teething and drooling will cause a mess. If you can swing it, buy a spare crib rail cover to have on hand while you wash.
Crib Rail Covers – Here's the scoop on Do vs. Don't
Always wash the crib rail cover before baby starts to stand up or pull up. Follow the manufacturer's instructions!
Never buy a used crib rail cover for sanitary reasons
Take the time to learn how to secure the rail cover properly. With the style that Liz and Roo makes, this means bringing BOTH ties through the buttonhole, pull tight and secure in a knot, and then a bow if you wish. Make sure it is secure and tight.
Wash the crib rail cover frequently to avoid mildew from the drool.
Blankets for Your Baby – Overview
The Security Blanket – a Must Have
Every baby needs a security blanket to help with transition or stressful times, events, and for nap time and sleep time. Studies have proven that babies become attached to and depend on their own blanket for self-comfort. Babies love to touch – tactile feel is very important to their comfort – and thus the feel of the blanket is key. Satin is the most appealing fabric to babies, followed by fur (faux fur!).  The addition of any other tactile element simply contributes to their attachment to their favorite blanket. Small security blankets commonly called "Loveys" can be small (15"x15") and easy to clutch for a toddler. But many blankets just "end up" being the security blanket, depending on the attachment the child has to a particular blanket.
The Receiving Blanket – it's Tradition!
The most versatile and multifunctional of all the blanket types is a receiving blanket, named for the special blanket that accompanied baby home from the hospital.  These blankets typically measure around 30" x 40" but can be larger or slightly smaller.
Receiving Blankets are used to swaddle, cuddle, for tummy time on the floor, for the stroller on a chilly day, and more.
The Swaddling Blanket – Keeping Baby Swaddled Just Like the Womb
The popularity of the swaddling blanket is something your mom didn't know anything about! These blankets are designed to emulate the womb. The most popular are made of muslin.
Chapter 5: Window Treatments: You Can Hang Your Own
When it comes to curtains, you can hire someone to do this for you – paying anywhere from $50 to $100 an hour depending on where you live. Or, you can do it yourself! Hanging tab top curtains is easy. Just follow this 6-step process and you'll have them up in less than 30 minutes!  Liz and Roo makes custom curtains in over 75 fabrics, exactly the length you want for your nursery or toddler's room.
Ready to DIY? Here's six fairly simple steps.
Step #1
Touch up the tab-top curtains with an iron, making sure to iron each tab flat. If the curtains are linen, be sure and use that setting on the iron. This will ensure after hanging tab top curtains, they look their best.
Step #2
Before hanging tab top curtains, lay one of the tab-top curtains flat on the floor. Hardwood floors are best for measuring, as they will ensure the curtains are flat. Measure from the top of the tabs to the bottom of the curtain with a tape measure in order to place the curtain rod at the correct height.  Write it down! Measure to the ¼ inch, ½ inch, etc. (don't round up or down).
Step #3
Cut off a small piece of masking tape so you don't have to make pencil marks on the wall when hanging tab top curtains. Make a small pencil mark on the tape at the point where you want your drapes to end (for example, one inch off the floor, right to the floor, etc). Measure the length of the curtain from the pencil mark by running the tape measure up the wall. Using your masking tape, make a second mark to indicate where the top of the curtain rod should go.
Step #4
Hang the curtain rod brackets according to the package directions. Most curtain rods require you to drill a small hole with a drill bit smaller than the screws you plan to use. Screw the brackets into the wall by inserting the screws through the holes in the brackets and into the pilot holes in the wall.
Step #5
Insert the curtain rod through each of the tabs on the first drape from right to left, making sure the correct side of the curtain is facing out. Slide the second panel onto the curtain rod one tab at a time, placing the tabs on the rod from left to right.
Step #6
Hang the curtain rod on the brackets and space the tabs on the drapes as you like. The tabs will be pushed together when the curtains are open and spaced evenly along the rod when the curtains are closed.  Stand a few feet away and see if the rod is perfectly level. You're done hanging tab top curtains with ease!
What You'll Need When Hanging Tab Top Curtains
Iron/Ironing Board
Light stick masking tape
Measuring tape
Drill and drill bit. We recommend you use a drill bit that is smaller than the curtain rod screws.
Screwdriver or screwdriver drill bit
You may need a molly if you are securing to drywall with no studs.
Want more info? Check out this guide from Real Simple magazine and The Do's and Don'ts of Hanging Curtains from Apartment Therapy.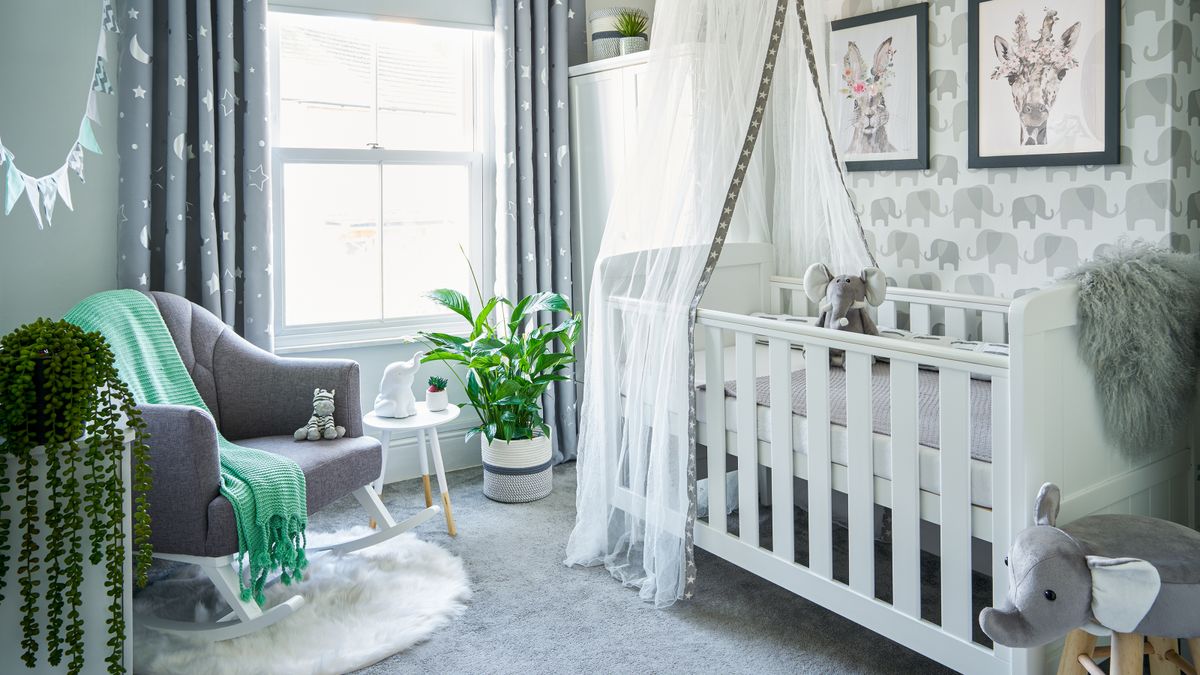 Chapter 6:  Designing in a Small-Scale Nursery
Planning your baby's nursery is one of the most pleasant and rewarding experiences during the pregnancy period. It can be quite frustrating, however, when you have to operate in a small space but at the same time wish to make the nursery the magical place you always pictured it to be. If this is your case, do not get discouraged! Sometimes limited choices are exactly what you need to get creative and work your parent magic. A few simple tricks can compensate for a tiny room by turning it into a warm and cozy baby nursery.
#1  Start With the Basics: Paint Colors
Before thinking about furnishing the nursery, you should consider the color of the walls. Regardless of whether you prefer paint or tapestry, keep in mind, using any intense color in a small-scale nursery will make it look even smaller. That's not to say that bold colors won't work! But, if you want to make the room look more spacious, use warm, light, eye-soothing paint colors. Neutral colors like eggshell, ecru, faded peach and creamy latte are suitable for both baby sexes and in the same time create the relaxing atmosphere of a cozy space.
#2   Crib Selection – the Power of the Smart Purchase
Small rooms call for smart, rational decisions. Your baby's crib will be one of your most important purchases. It should be an all-in-one solution for the limited small space that you have. Do not make the mistake of buying a large crib when your space cannot hold it. Consider an oval crib (Leander makes a beautiful line of oval cribs) or a Mini Crib for space saving and modern elegance. Look at other options, such as additional storage benefits like built-in drawers. Another decision is the changing table. Guess what – it is not essential! If you have a cushioned changing pad, you can put it anywhere to change your baby – on top of the dresser is the most popular spot.
#3  Use the Walls, Not the Floor
You would be surprised how much space the walls can grant you by mounting shelves. Shelves are, in the same fashion, a brilliant way to save space and make room for diapers, lotions, creams and other basic necessities. Add a photo frame to the necessities or other accessories to enhance the space.
There's a great blog on creating your nursery in a closet by Nursery Design. Read and believe. This can be done.
#4 Make a Statement with Your Crib Bedding
To offset the neutral color of the walls, you can incorporate bright bedding colors and patterns. For example, nautical crib bedding combined with a navy crib skirt and splashes of red accents will make a statement. Animal motifs are always a great alternative for both boys and girls. Elephant crib bedding has been a popular trend over the past few years and can liven up a small nursery. Plus, there are so many accessories you can find that coordinate with either the elephant or nautical nursery themes.
When designing your nursery space, remember to have fun and try to be resourceful, because planning your baby's nursery is the first step to anticipating your child's needs and adjusting your mind to the new life regimen that is about to commence.
Chapter 7:  Safety Guidelines You Need to Know
Federal safety regulations are in place to protect your baby. First and foremost, don't be tempted by the Aunt who wants to give you her crib from 2009 (or any other prior year).  The Consumer Product Safety Commission recommends you NOT use crib more than 10 years old. Plus, older cribs may contain paint with higher lead contents, a safety hazard for your baby. Other concerns about used cribs:
Drop-side cribs (where one side can be lowered to place the baby in and out of the crib easily) have been banned from manufacturing because of safety issues. Instead, cribs have adjustable platforms so you can change the height of the mattress from the ground and top of the crib rail.
The mattress should fit snuggly inside the crib. You shouldn't be able to put more than two fingers between the crib and mattress.
Mattresses should be no more than 6″ thick. (Liz and Roo crib sheets have 7″- 8″ pockets to make dressing the bed easier!)
You'll want to make sure the crib you select has adjustable mattress settings which allow for lowering the mattress. At the infant stage, you'll want a higher mattress that allows you to easily put them to bed, but as your baby grows, you'll want to lower the mattress so they can't climb out.
The American Academy of Pediatrics strongly advises against use of bumpers with infants, as they may increase the risk of SIDS and crib related deaths.
Safety Considerations FAQ
Where Can My Baby Safely Sleep?
Bassinets and pack and plays are both safe sleeping environments for your infant, as long as they meet the following Consumer Product Safety Commission guidelines:
Sturdy bottom and wide base
Smooth surfaces without protruding hardware
Legs with locks to prevent folding while in use
Firm, snugly fitting mattress.
Why can't I leave my baby in the car seat to sleep?
Car seats are designed for travel in a moving car and not as a sleep surface. Your baby can move into a dangerous position that blocks their breathing. Your baby should always be removed from the car seat when arriving at your destination.
Can my baby sleep in a bouncy seat or swing?
Bouncy seats and swings are not designed for a sleeping baby. If a baby is left in a bouncy seat or swing for extended periods of time, your baby can move into a dangerous position that blocks their breathing.
If your baby falls asleep in the bouncy seat or swing, remove them from the bouncy seat or swing, and place your baby flat on their back in a crib, bassinet, or play yard. Bouncy seats and similar items should always be placed on the floor and never on a bed, table or other furniture.
Tips on Safety Proofing the Crib
Your baby's crib is a safe place. It's a place for your little one to lay their head after hours of play, and a place where you can enjoy the peacefulness of those moments before your baby drifts off to sleep. But there are some very important decisions that need to be considered when it comes to baby's crib safety.
The crib is your baby's safe haven. A place for resting, sleeping and sometimes even for playing. But most of all, your baby will come to learn that the crib is a place of their own. The crib must be erected with special care, ensuring that all the bolts and screws are correctly installed and tightened as firmly as possible. Most furniture stores provide white glove service, with delivery and installation. It's worth the fee to pay a professional to put your crib together properly.
When it comes to purchasing a mattress, it should be firm and tight fitting. There shouldn't be any sagging or loose material and it should firmly fill the crib so that the baby can't wriggle his or her arm or leg down the sides. Scientific sources recommend the purchase of a new mattress because this allows you to know the history of the mattress (none!) and also prevents dust mites and other hidden nasties creeping around inside.
 Liz and Roo's Gray Elephants Crib Rail Cover (Navy Trim).